Summary
The scanned raster and vector datasets contains the rock unit polygons for the surficial geology for DGS Geologic Map No. 8 (Milford-Mispillion River Quadrangles). This map is the first detailed surficial geologic map in southern Kent and northern Sussex counties.
Web Map Service (WMS) Information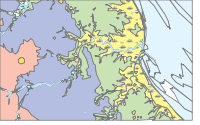 WMS URL: http://maps.dgs.udel.edu/geoserver/dgs/ows?
Layer Names: geomap08
Spatial Reference System(s)
NAD_1983_HARN_StatePlane_Delaware_FIPS_0700
Dataset Bounding Box
Please give proper credit to the Delaware Geological Survey.
Delaware Geological Survey
Phone: (302)-831-2833
Fax: (302)-831-3579
delgeosurvey@udel.edu
University of Delaware
Delaware Geological Survey Building
Newark, DE 19716
Mon - Fri; 8:00am to 4:30pm