Summary
The vector and raster data sets contains the rock unit polygons for the surficial geology for DGS Geologic Map No. 10. This map is of the crystalline bedrock units in the Piedmont of Delaware and adjacent Pennsylvania.
Web Map Service (WMS) Information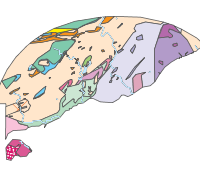 WMS URL: http://maps.dgs.udel.edu/geoserver/dgs/ows?
Layer Names: geomap10
Spatial Reference System(s)
NAD_1983_HARN_StatePlane_Delaware_FIPS_0700
Dataset Bounding Box
Please give proper credit to the Delaware Geological Survey.
Delaware Geological Survey
Phone: (302)-831-2833
Fax: (302)-831-3579
delgeosurvey@udel.edu
University of Delaware
Delaware Geological Survey Building
Newark, DE 19716
Mon - Fri; 8:00am to 4:30pm