Primary Data Category:
Geology
Publication Date:
Jan 1995
Summary:
These raster and vector datasets contains the rock unit polygons for DGS Geologic Map No. 9 (Seaford). This map shows the distribution of geologic units found at or near land surface.
Downloads and Data
Associated Publication(s):
Please Note:
Many datasets on this site are available as compressed and zipped 7z files. To "unzip" the 7z file, you must obtain the free and open source 7zip program.
Geography
Live Preview Available!
<= click map to preview data
Web Map Service (WMS) Information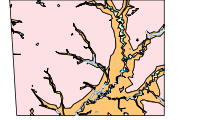 WMS URL: http://maps.dgs.udel.edu/geoserver/dgs/ows?
Layer Names: geomap09
WMS Note: When adding WMS service URLs to ESRI ArcMAP v9.x make sure to reset the "Default Version" to 1.1.1
Spatial Reference System(s)
NAD_1983_HARN_StatePlane_Delaware_FIPS_0700
Use Constraints
Please give proper credit to the Delaware Geological Survey.