Primary Data Category:
Geology
Publication Date:
Jun 2011
Summary:
This vector data set contains the rock unit polygons for the surficial geology in the Delaware Coastal Plain covered by DGS Geologic Map Series No. 17 (Harbeson quadrangle). The complex geologic history of the surficial units of the Harbeson Quadrangle is that of deposition of the Beaverdam Formation and its subsequent modification by erosion and deposition related to sea-level fluctuations during the Pleistocene. The geology is further complicated by periglacial activity that produced dune deposits and Carolina Bays scattered throughout the map area.
Downloads and Data
Associated Publication(s):
Please Note:
Many datasets on this site are available as compressed and zipped 7z files. To "unzip" the 7z file, you must obtain the free and open source 7zip program.
Geography
Live Preview Available!
<= click map to preview data
Web Map Service (WMS) Information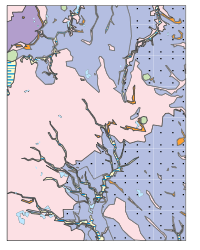 WMS URL: http://maps.dgs.udel.edu/geoserver/dgs/ows?
Layer Names: geomap17
WMS Note: When adding WMS service URLs to ESRI ArcMAP v9.x make sure to reset the "Default Version" to 1.1.1
Accuracy Information
This map was prepared for a scale of 1:24,000 and should not be used at larger scales for denotation of rock unit boundaries.
Spatial Reference System(s)
NAD_1983_HARN_StatePlane_Delaware_FIPS_0700
Use Constraints
Please give proper credit to the Delaware Geological Survey.