Primary Data Category:
Geology
Publication Date:
May 2010
Summary:
This vector data set contains the rock unit polygons for the surficial geology in the Delaware Coastal Plain covered by DGS Geologic Map No. 15 (Geologic Map of the Georgetown Quadrangle, Delaware). The geologic history of the surficial geologic units of the Georgetown Quadrangle is primarily that of deposition of the Beaverdam Formation and its subsequent modification by erosion and deposition of younger stratigraphic units. The age of the Beaverdam Formation is uncertain due to the lack of age-definitive fossils within the unit but is thought to be between late Pliocene to early Pleistocene in age. Refer to Ramsey, 2010 (DGS Report of Investigations No. 76) for details regarding the stratigraphic units.
To facilitate the GIS community of Delaware and to release the geologic map of the Georgetown Quadrangle with all cartographic elements (including geologic symbology, text, etc.) in a form usable in a GIS, we have released this digital coverage of DGS Geological Map 15. The update of earlier work and mapping of new units is important not only to geologists, but also to hydrologists who wish to understand the distribution of water resources, to engineers who need bedrock information during construction of roads and buildings, to government officials and agencies who are planning for residential and commercial growth, and to citizens who are curious about the bedrock under their homes. Formal names are assigned to all rock units according to the guidelines of the 1983 North American Stratigraphic Code (NACSN, 1983).
Downloads and Data
Associated Publication(s):
Please Note:
Many datasets on this site are available as compressed and zipped 7z files. To "unzip" the 7z file, you must obtain the free and open source 7zip program.
Geography
Live Preview Available!
<= click map to preview data
Web Map Service (WMS) Information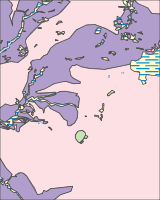 WMS URL: http://maps.dgs.udel.edu/geoserver/dgs/ows?
Layer Names: geomap15
WMS Note: When adding WMS service URLs to ESRI ArcMAP v9.x make sure to reset the "Default Version" to 1.1.1
Accuracy Information
This map was prepared for a scale of 1:24,000 and should not be used at larger scales for denotation of rock unit boundaries.
Spatial Reference System(s)
NAD_1983_HARN_StatePlane_Delaware_FIPS_0700
Use Constraints
The Delaware Geological Survey (DGS) is constantly gathering data from multiple sources, interpreting the data, and reflecting its interpretations on maps. DGS's interpretations of multiple data sources are reflected in this map available for download. Reasonable efforts have been made by DGS to verify that this digital shapefile accurately interprets the source data used in its preparation; however, this map may contain omissions and errors in scale, resolution, rectification, positional accuracy, development methodology, interpretations of source data, and other circumstances. This map is also date specific and as additional data becomes available and as verification of source data continues, this map may be reinterpreted and updated by DGS without notification. The DGS maintains a digital geologic polygon layer on which these changes may be reflected. Please check the metadata for these layers to verify any updates. This map was prepared for a scale of 1:24,000 and should not be used at larger scales for denotation of rock unit boundaries. Nothing contained herein shall be deemed an expressed or implied waiver of the sovereign immunity of the State of Delaware or its duly authorized representatives, agents, or employees.